If you have been using an SEO strategy for your website or plan on implementing one, there is a major update coming to Google's algorithm that will change the way Google ranks sites in its search results. Rolling out in May, Google will implement three new page experience ranking signals otherwise known as Core Vitals. These are metrics that will allow the search engine to determine which websites give users a negative or positive experience, based on how long they spend on them. The Core Vitals which are part of the update are:
Loading: this refers to Largest Contentful Paint, which is a technical term describing how long a site takes to load its most extensive section. LCP monitors and impacts user experience because visitors demand minimal waiting times and believe that sites that load quickly are reliable
Interactivity: Interactivity is measured by tracking how long it takes for the First Input Display to load. This is important for user experience as a website's FID creates an impression for first-time visitors.
Visual Stability: Google checks for Cumulate Layout Shift – users do not stay on websites that freeze during the interaction or has images that are not stable.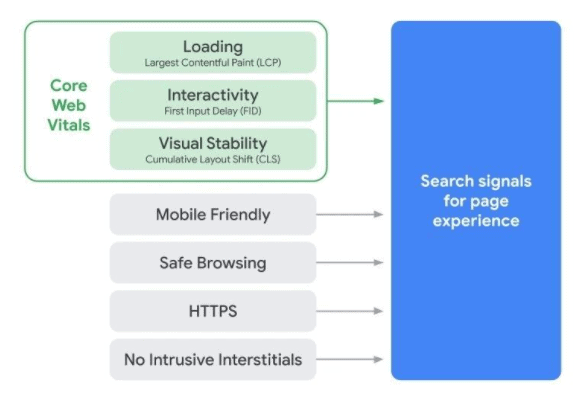 The Core Vitals are in addition to the existing page experience signals, which will still be assessed by Google. These elements include the mobile-friendliness of the site, removal of harmful content like malware and phishing pages, encryption of user data through HTTPS and minimised pop-ups that block user's view of content on the site.

So what does this all mean for website owners? Here are three things we can expect with the update in May:
Search rankings will change for a lot of websites – websites that are performing OK in results but offer good page experience have the opportunity to rank higher, whilst sites that need to improve their page experience may notice a drop in ranks until their issues are fixed
Google may add labels in the search engine results for websites that meet all of its page experience criteria (according to Search Engine Journal). If this is implemented, you can expect visitors to visit labelled sites more often to receive a better experience. Sites that are unlabelled will most likely experience less search traffic.
Ensure you check your site/s page experience and make the necessary improvements if needed.
With the update coming up in a month, you will want to prepare accordingly to ensure your website maintains its rankings. Start off by assessing the user experience health of your pages with Core Web Vitals report. This will cover the existing signals for page experience and help you identify areas you will need to improve. There are many other tools that can help you prepare, but we highly recommend GTmetrix. This tool allows you to cover all your bases now and going forward with the new page experience update. Powered by Google Lighthouse, GTmetrix is designed with increased accuracy and focus to provide enhanced metrics for user experience. Lighthouse provides a grade for your website which combines front-end structure with the stats for UX and Web Vitals.
So, how prepared are you for Google's Page Experience Algorithm? Our recommended suggestions and tools are a great way to get started, however without continuously updating and maintaining your website, you're at risk of flawing your SEO strategy. If you lack the time or personnel to do this or need help getting your strategy on track, contact Daisy Digital today! Our team of experienced SEO specialists can help you get ready for the Google update and beyond.