When undertaking an SEO strategy, many people don't realise the power of utilising an FAQ page within their website, which can make you miss out on potential business. No matter how old your website is or how many links you have, an FAQpage Schema can deliver results within the hour of implementing! So what is an FAQpage Schema and what does it do? Before we get into the nitty-gritty of the topic, understanding how users and potential customers use Google to find a specific product or service is key to generating an FAQ page that checks all the right boxes.
Google operates with an ever-changing algorithm to deliver specific search results, and also continually tests out new design elements. Many people are familiar with searching for "[something] near me" and Google displays a list of local businesses and their ratings. Looking up a person may give you an assortment of images and a synopsis about them, and even looking up a mathematical equation will show you the answer so you don't have to scroll through and click on a website. The point of having an FAQ on your website is to provide key information that will be displayed on the main SERP and drive customers to your website.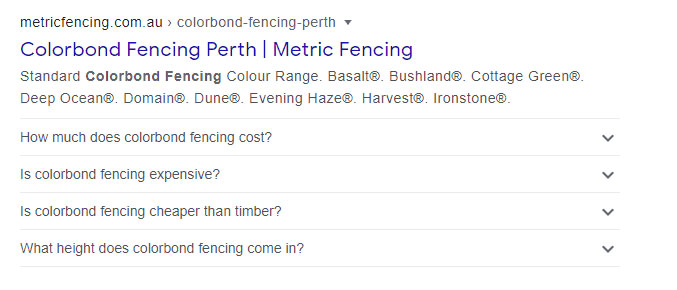 By addressing all the potential and frequently asked questions about a specific product or your business, Google will pull the FAQ-rich results from your website and display them as a dropdown in the SERP listing. 
Our client, Metric Fencing, is a perfect case study on how a FAQpage Schema is implemented and delivered. This client specialises in Colorbond fencing in Perth, and so they have a dedicated page on their website for this product. The content has been keyword optimised with "colorbond fencing" and all relevant FAQs have been implemented on the page. By combining meaningful content and key answers to potential questions, Google pushes up the website listing because it is relevant and fulfils the user's search intent.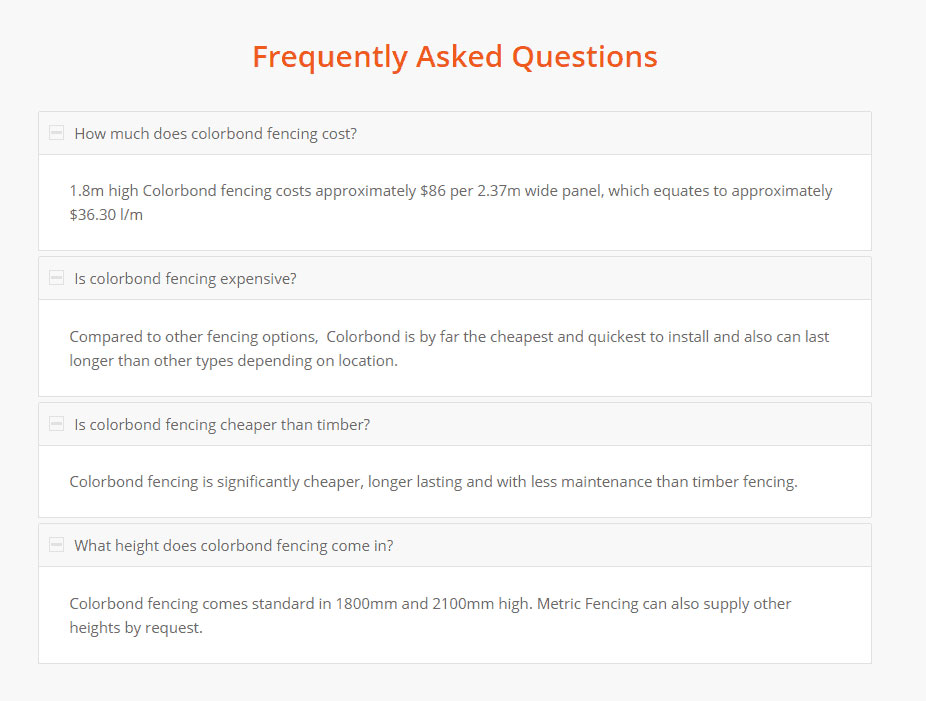 To be eligible for a FAQpage Schema, you will need to make a list of questions (cannot be a single question) and a relevant product support page. FAQ Schemas are commonly implemented through Google Tag Manager or as a plugin through WordPress, which is the most used Content Management System on the internet and our recommendation at Daisy Digital.
Having your FAQ featured on the main results page on Google can generate an increase in organic traffic and by adding a schema, your chances of this happening can be improved. This powerful yet underused piece of code takes the guesswork out of search engines when they crawl your site and will ultimately provide users with your listing. If you are thinking of revising your SEO strategy with content and providing a high-quality FAQ page, get in touch with the Daisy Digital team today – we tailor your business strategy to deliver real results!