Our client Canopies WA supply and install high quality fibreglass 4×4 ute canopies and accessories right here in Perth. They recognise the importance of digital marketing and its ability to generate leads and sales. We've been working with Canopies WA for a number of years managing their Pay Per Click (PPC) advertising campaigns and conducting Search Engine Optimisation (SEO) on their website with great results.
Google Ads are a large part of many business' online marketing efforts, and Canopies WA are no exception. Whilst SEO can provide a significant amount of traffic and leads, it is a long term process that generally doesn't provide results immediately. We conducted an audit of their existing Google Ads campaign, providing recommendations to the client and an analysis of their current performance. Following our audit, we began optimisation of the campaign and continued to manage and maintain its performance. From February 1st 2019 to February 1st 2020, we saw Conversions increase by 192% compared to the previous period, whilst Cost Per Conversion decreased by 65%! We're really thrilled with these fantastic results for our client, and they are too.
Search Engine Optimisation (SEO)
In addition to our Google Ads optimisation and management, we have been conducting Search Engine Optimisation tasks such as:
Backlink Auditing & Creation
Content Creation & Optimisation
Technical Updates (Pagespeed Optimisation)
…and more!
As a result, Canopies WA is ranking on Page 1 of Google for key terms such as:
Canopies Perth – Position 1
Canopies – Position 2
4×4 Canopies – Position 2
Ute Canopies – Position 3
Ranking on page 1 for key terms such as those above will provide significant amounts of organic traffic and leads for your business. Whilst SEO can be difficult and results can be delayed, organic search engine rankings will provide a steady stream of genuine leads without any additional cost to you.
With the correct digital strategy in place, Canopies WA's Google Ads, Search Engine Optimisation and Local SEO enabled them to be displayed prominently on the first page of Google for 'Canopies Perth'.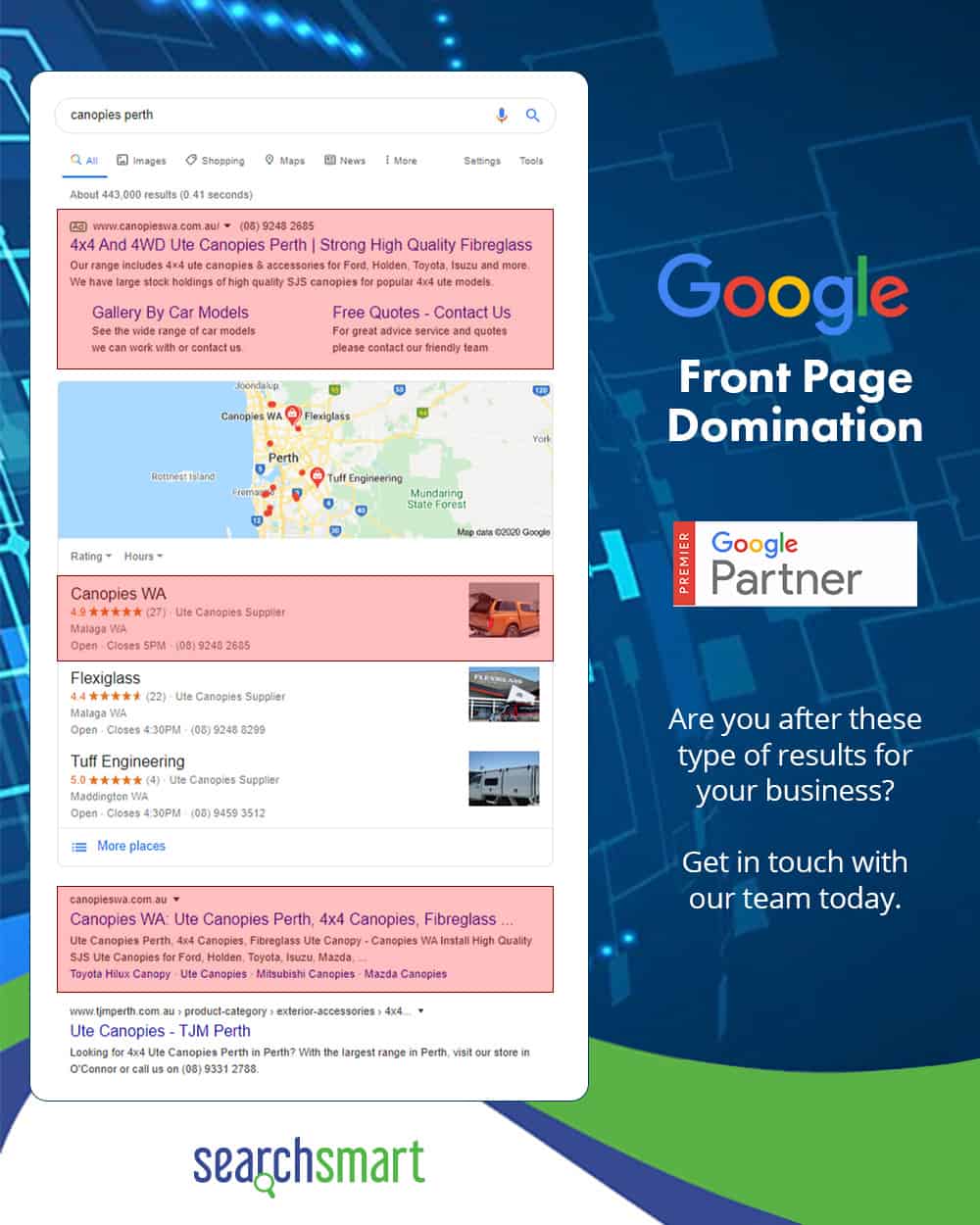 We are a local SEO agency in Perth business owners turn to when they want results.
Your customers are turning to Google when searching for a product or service near them and local SEO is an essential part of your digital strategy so that you're found for suburb based searches.
To experience the difference Daisy Digital can make for your business, call or email us today.