2022 is officially here and there is no better feeling than starting the new year strong with clearing out all of the toxic and low-quality backlinks that are directed towards your site! It feels just as good as clearing out your bedroom, opening a window and letting all the fresh air and sunlight come through!
Backlinks with a low domain authority score and high toxicity score have the potential to negatively impact your rankings and could even lead to penalties from search engines like Google and Bing.
Here at Daisy Digital, as part of our SEO duties, we keep a close eye on the level of toxicity of our client's backlinks and conduct a disavow file when necessary.
Check out the results we recently achieved for a client: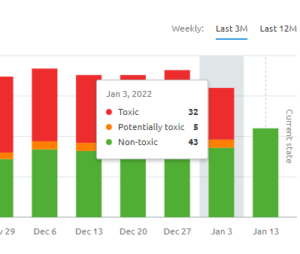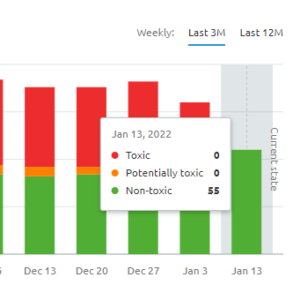 What is a disavow file?
Google introduced the Disavow Tool in 2012 to address the issue of 'unnatural links' pointing to your website. To put it in simple terms, the submission of a disavow file to Google involves creating a list of backlinks to disavow, analysing the links (to see if they are indeed poor quality) and then uploading the document to the Disavow Tool as a text (.txt) document.
Not only do disavow files remove bad links that prevent Google and other search engines from taking action in the future, but they also help to protect the perception of your brand, since people will no longer find spammy links pointing to your site on the web and jump to conclusions about your website or business.
However, it is important to remember that even Google itself notes that disavowing links to your site 'is an advanced feature and should only be used with caution. If used incorrectly, this feature can potentially harm your site's performance in Google Search results'.
How soon after a disavow file will the links be ignored?
This is a question we often get asked. It can take anywhere from weeks to several months before the results are seen as Google will need to recrawl and reindex the URLs that have been disavowed.
If you have any further questions on backlinking and disavowing links, contact the friendly and knowledgeable team at Daisy Digital today!